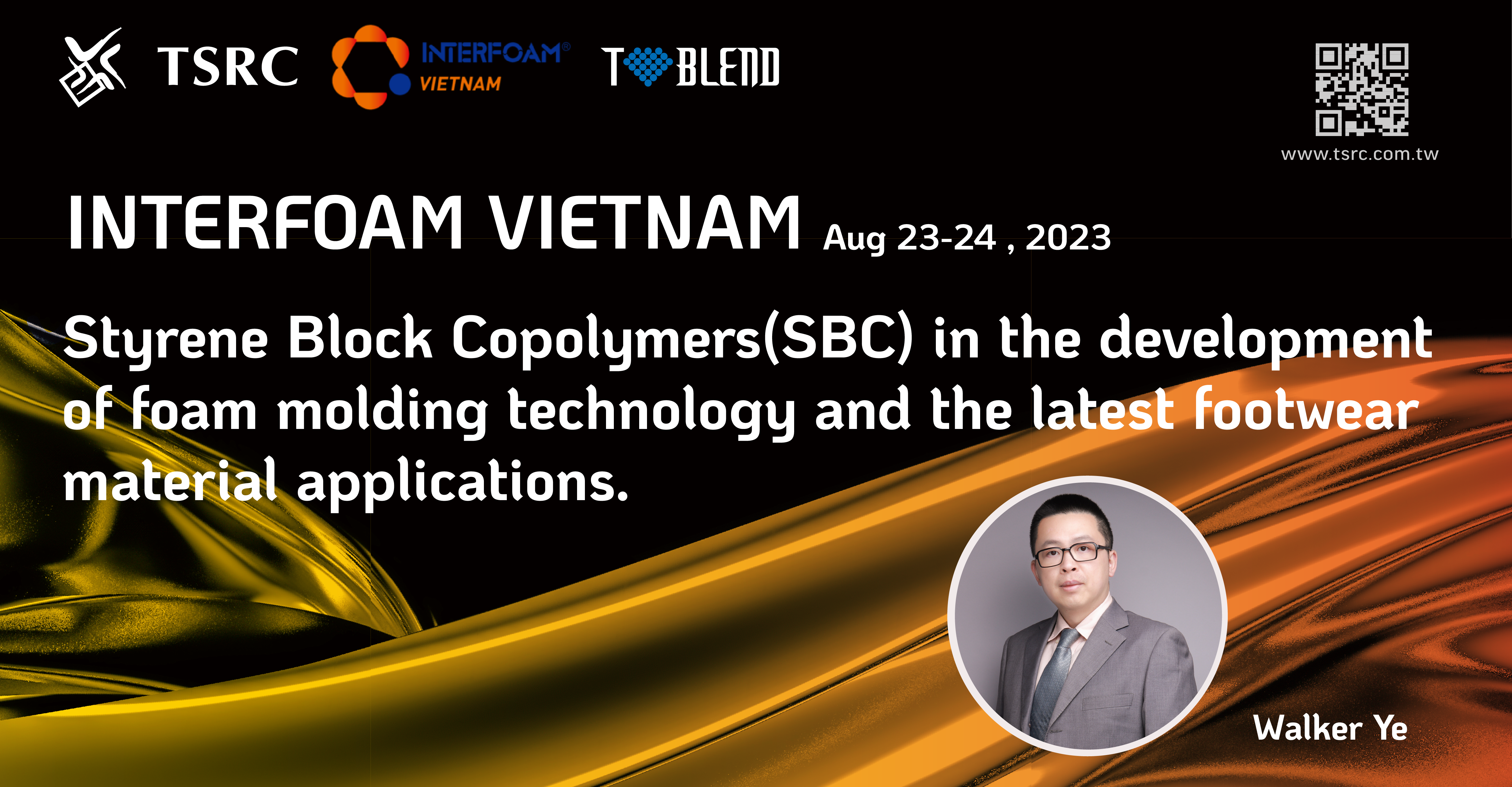 TSRC Presents Innovative Footwear Comfort with SBC Elastomers at Interfoam Vietnam
TSRC is excited to participate in Interfoam Vietnam and the Foams and Applications International Forum from Aug 23rd to 24th, 2023. TSRC will highlight the versatile applications of Styrene Block Copolymer (SBC) in foam molding technology and the footwear industry.
SBC foam materials offer excellent elasticity and toughness in midsoles, providing cushioning and support while reducing pressure during walking and running. TSRC's optimized material selection and design achieve the ideal balance of cushioning and support. Insoles made with SBC foam materials provide personalized cushioning, reducing foot fatigue and enhancing stability through appropriate density and softness.
TSRC's SBC compound technology expert, Mr. Walker Ye, from the Global Application Research and Development Center will deliver compelling speeches at the forum. Join us on Aug 23, 2023, at 14:30pm, to explore the potential of SBC foam materials in revolutionizing foam molding technology and enhancing footwear comfort.
TSRC giới thiệu sự thoải mái đột phá của giày dép với vật liệu chất đàn hồi SBC tại triển lãm Interfoam Việt Nam
TSRC rất vui mừng được tham gia Interfoam Việt Nam và Diễn đàn Quốc tế về Bọt xốp và Ứng dụng từ ngày 23 đến ngày 24 tháng 08 năm 2023. TSRC sẽ nêu bật các ứng dụng linh hoạt của Styrene Block Copolymer (SBC) trong công nghệ đúc xốp và ngành công nghiệp giày dép.
Vật liệu bọt xốp SBC mang lại độ đàn hồi và độ dẻo dai tuyệt vời ở phần đế giữa, cung cấp khả năng đệm và hỗ trợ tốt trong quá trình đi bộ và chạy, đồng thời giảm áp lực cho chân. Lựa chọn vật liệu và thiết kế tối ưu của TSRC đạt được sự cân bằng lý tưởng giữa khả năng đệm và hỗ trợ. Đế trong được làm từ vật liệu bọt xốp SBC mang lại sự êm ái cho mỗi người dùng, giảm cảm giác mỏi chân và tăng cường độ vững chắc thông qua độ đặc và độ mềm phù hợp.
Chuyên gia công nghệ hợp chất SBC của TSRC, ông Walker Ye, từ Trung tâm Nghiên cứu và Phát triển ứng dụng toàn cầu sẽ trình bày những bài phát biểu đầy thú vị tại diễn đàn. Hãy tham gia cùng chúng tôi vào ngày 23 tháng 08 năm 2023, vào lúc 14:30pm, để khám phá tiềm năng của vật liệu bọt xốp SBC trong công cuộc cách mạng hóa công nghệ đúc xốp và nâng cao sự thoải mái cho giày dép.

INTERFOAM VIETNAM
Session time: Aug 23, 2023, at 14:30pm
Venue: SECC, Ho Chi Minh City, Vietnam
https://interfoamvietnam.com/en
---
2023/08/23 ~ 25
INTERFOAM VIETNAM 2023