Transformational Chemistry,
Transform Lives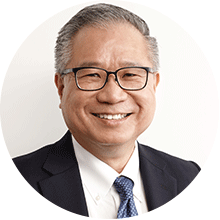 Joseph Chai, CEO
From a humble beginning in 1973, TSRC has grown to become one of the largest synthetic rubber companies in the world. In fact, TSRC today is more than just a synthetic rubber company. We are a specialty polymer company servicing customers in the tire, automotive, industrial, and consumer products markets.

Our growth over the past 40 years bears witness to our unfailing commitment towards delivering value to our customers through technology innovation, eco-responsible manufacturing, and 100% quality and services. As we move towards our golden jubilee in 2023, we are transforming to become a global enterprise ready and capable of being an essential ingredient of success for our customers, stakeholders, community, and employees.

The two critical elements in our transformation are Innovation and People.
We are a chemical company focusing on specialty polymers. Creating and formulating polymeric chemistry that deliver enhanced functionality, performance, and sustainability adds value to our customers' business and improves the quality of life for end users. This in turn benefits our stakeholders and drives further innovations and business growth.

People are central to solving problems and making things happen. We at TSRC places special emphasis on safety, environmental responsibility, and the wellbeing of our employees and the community we operate in as we believe they are of utmost importance. This is how we can achieve sustainable growth.

Welcome to TSRC's website, and we hope you find it useful and informative. We also thank you for your support which energizes us to continue providing Transformational Chemistry to Transform Lives!
Joseph Chai,
CEO