Transformational Chemistry,
Transform Lives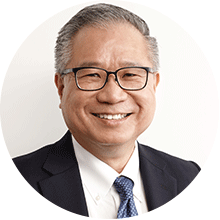 Joseph Chai, CEO
Welcome and thank you for visiting TSRC's website. I hope you will find the website useful and informative and gain a better understanding about TSRC Corporation (TSRC).
The year 2023 is projected by a large spectrum of economists, business executives, and governments to be very challenging, volatile, and uncertain. Rightfully so, given that the lingering geopolitical tensions, wars, climate change, and cost inflation show no signs of relief. However, 2023 holds a special meaning for TSRC because it marks an important milestone as we celebrate our enterprise's 50th anniversary.
Starting from a humble beginning, formed under the government's directive in support of Taiwan's industrial development and without in-house technology, TSRC has grown from strength to strength to become one of the leading global manufacturers in synthetic rubbers and specialty polymers.
We are grateful to our (past and present) customers, employees, partners, and shareholders for your unwavering support over the past 50 years, without which we would not be where we are or have become who we are. We truly cherish the mutual trust we have built through good and challenging times. Our core values of Integrity, Innovation, Teamwork, Excellence, and Accountability have defined and sustained TSRC for 5 decades and will continue to be the foundation pillars moving forward into the next 50 years.
TSRC has been focusing on evolving into a global specialty materials company, a challenging yet necessary transformation, as we navigate through multiple global transitions vis-a-vis climate and environmental impacts, a new energy and low carbon economy, digitization, multipolar market economies, and talent redistribution. We are committed to lowering carbon footprint and other ESG initiatives in support of ours and customer's ESG endeavor and to refresh and enhance our business portfolio to ensure long-term business sustainability.
Despite a muted market outlook in 2023, we celebrate TSRC's 50th anniversary with confidence and hope. Challenges are not to be feared because adversity breeds resilience, courage, and opportunities. It also helps build character to succeed.

Innovation and People are central to the sustainable growth of TSRC, and we appreciate everyone who journeys with us to create transformational chemistry to transform lives!
In this milestone year, let us treasure our past, focus on our present, and boldly build our future!
Joseph Chai,
CEO