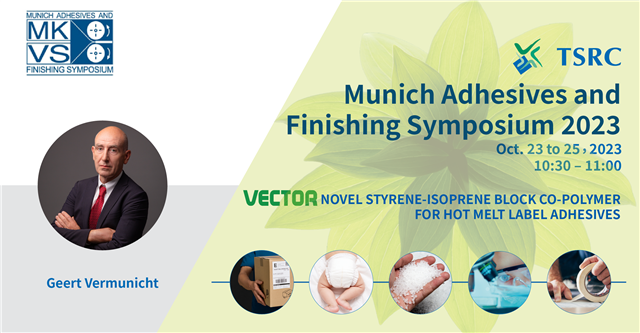 TSRC Corporation is pleased to announce its participation in the Munich Adhesives and Finishing Symposium (MKVS) scheduled to take place from October 23rd to 25th, 2023, in Munich, Germany.
TSRC has the privilege of delivering a presentation titled "Novel Styrene-Isoprene Block Co-Polymer for Hot Melt Label Adhesives." which will be given by Geert Vermunicht, Ph.D.. During the event, TSRC will highlight its innovative advancements in SIS (Styrene-Isoprene-Styrene) for adhesives, specifically designed to meet the rigorous requirements of PSA (pressure-sensitive adhesives). These advancements include exceptional moisture resistance, low-temperature properties, and reduced elasticity, resulting in improved die-cutting convenience and enhanced adhesive performance. Mark your calendars for our presentation on October 25th at 10:30 am.
At TSRC, we are committed to delivering high-quality solutions that cater to the evolving needs of our customers and the industry. Don't miss this opportunity to explore TSRC Corporation's state-of-the-art solutions and engage with our team of experts. We look forward to welcoming you at MKVS.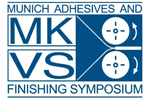 MKVS
Session time: 2023/10/25 at 10:30am
Venue: Munich, Germany
https://www.mkvs.de/en/program/wednesday/
---
2023/10/23 ~ 25
Munich Adhesives and Finishing Symposium (MKVS) 2023