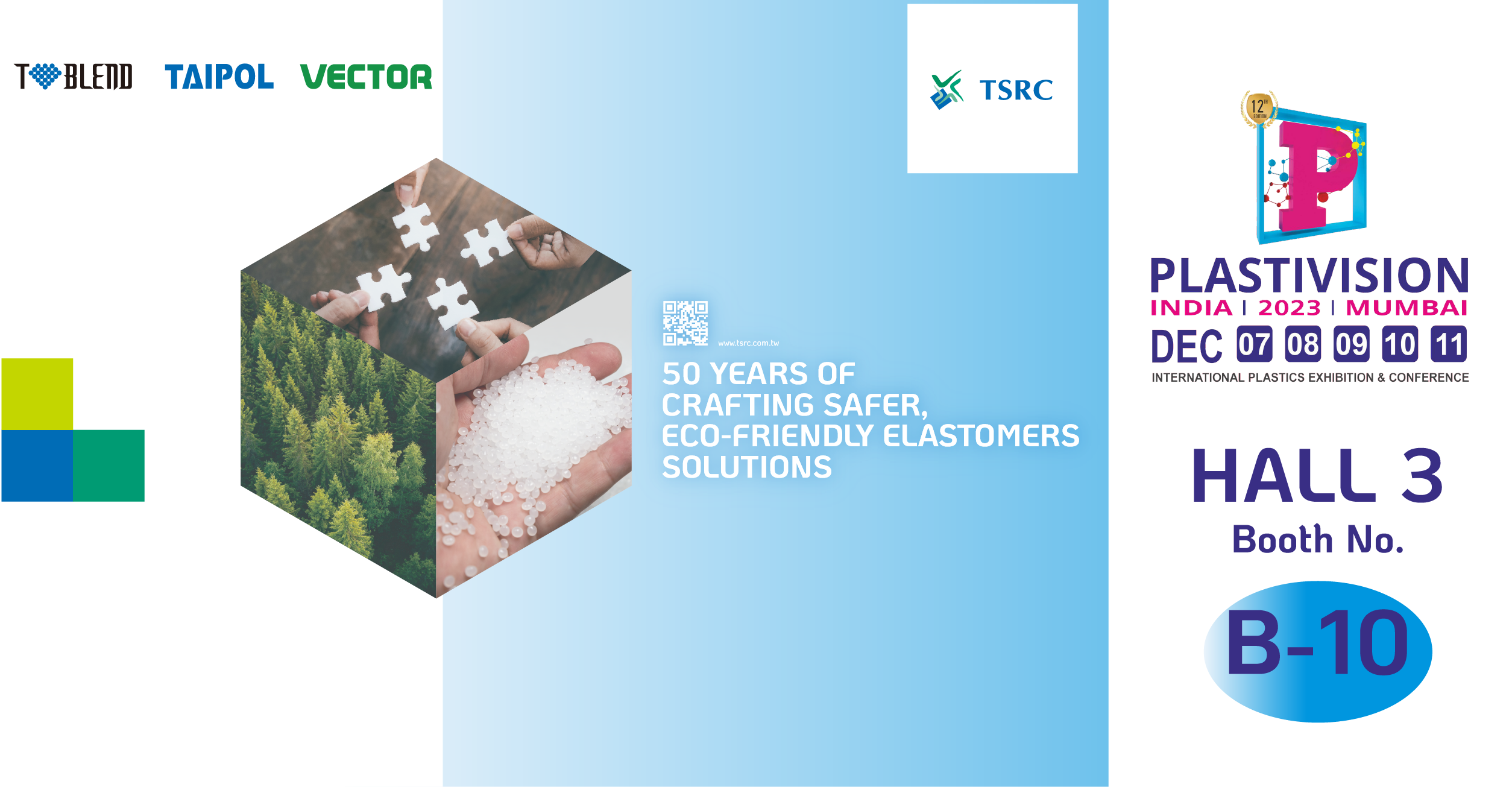 TSRC to Unveil State-of-the-Art TPE Innovations at Plastivision 2023 in Mumbai
TSRC, a globally recognized leader in TPE(Thermoplastic Elastomers), is thrilled to announce its participation in Plastivision 2023, the premier plastics exhibition to be held from December 7 to 11, 2023, in Mumbai, India.
Plastivision 2023 serves as a vital platform for industry professionals to explore the latest advancements, technologies, and trends in the plastics and rubber sector. With its commitment to innovation, sustainability, and high-quality products, TSRC is excited to showcase its expertise and solutions at this prestigious event.
At the exhibition, TSRC will prominently feature its exceptional medical TPE elastomer series, underscoring the company's proficiency in producing top-notch, high-quality materials for the medical industry. This product line demonstrates TSRC's unwavering dedication to delivering solutions that meet the rigorous standards and demands of the healthcare sector.
In addition, TSRC will unveil its comprehensive range of TPE-based solutions tailored specifically for the hygiene market. These innovative solutions offer superior performance, comfort, and addressing the evolving needs of consumers and industry players in the hygiene industry.
As a leading TPE provider, TSRC places sustainability at the forefront of its operations. At Plastivision 2023, the company will highlight its "Return to Origin" program. This program significantly enhances the quality of recycled resin, breathing new life into it and promoting a circular economy. TSRC's commitment to sustainability is further exemplified by its TPE elastomers for PCR (post-consumer recycled). These offerings showcase the company's dedication to a greener future by encouraging the use of recycled materials in manufacturing processes.
TSRC also introduces eco-friendly foam injection materials, free from chemical foaming agents and VOC emissions. The materials cater to sports applications, helping brands achieve sustainability goals.
Visitors to TSRC's booth(#B-10) in Hall 3 will have the opportunity to engage with TSRC's knowledgeable team and gain insights into the extensive TPE product portfolio. TSRC's experts will be available to discuss specific requirements, offer guidance, and explore potential collaborations to address unique challenges faced by businesses in the plastics sector.

PLASTIVISION 2023
Booth No: Hall 3, #B-10
Venue: Mumbai, India
https://www.plastivision.org/index.php
---
2023/12/07 ~ 11
PLASTIVISION 2023