2022/04/07
TSRC announced joining "TALENT, in Taiwan", Taiwan Talent Sustainability Development Alliance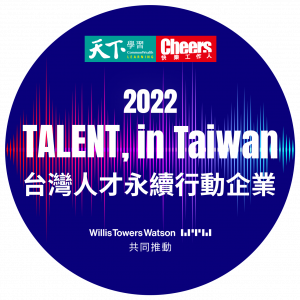 Since founded in 1973, TSRC has been operating in accordance with its people-centric concept, core values of integrity, innovation, teamwork, excellence and accountability, and mission of cherishing earth resources for sustainability. Over the past decades, TSRC has invested in talent cultivation and product development towards becoming a global specialty chemical company providing materials and application solutions. We consider people as the most important asset to the company and people development as a key company objective. To strengthen the competitiveness of the talents in Taiwan and strive for the sustainable development goal of quality education, TSRC announced joining "TALENT in Taiwan", Taiwan Talent Sustainability Development Alliance.
We commit to implementing actions for talent sustainability towards the targets in "purpose and values," "rewards and recognition," "wellbeing and health," and "talent growth" as follows:
1. Enable virtual and physical sharing among employees, as well as social participation programs to connect to the communities, for every TSRC employee to develop and upskill for the creation of better career and future.
2. Offer competitive total compensation and build a workplace where every employee's contribution and achievement are recognized. Constantly promote a high-performance organizational culture.
3. Provide employees a workplace where the balance between work and life is concerned and being empathic to the needs of individuals at different stages of life. Take care employee wellbeing and health to establish the sense of belonging and happiness.
4. Invest in talent development actively by providing diversified learning opportunities with an aim for employees to handle the challenges of global competition and collaboration in a positive way and grow with TSRC.
We will continue to collaborate with Commonwealth Learning, Cheers and other 100 companies in Taiwan to promote and advocate for our talent sustainability programs. We hope that in the near future, we can enable every person to create a better career and future.
Welcome to join TSRC! Together, we harness the power of science to create solutions that make the world a better place.
For job opportunities, please check our website: Career – www.tsrc.com.tw/career/carer-at-tsrc 
Back