For future development, we will make continual
improvement to pursue sustained operations.
To all our TSRC partners, TSRC has been gradual thriving for 40 years, through technological innovation, the concept of environmental protection during production and confirmed quality and services, to achieve our consistent commitment of delivering value to our customers. At the same time, we are transforming, getting ready to become a global industry to be a successful business for our customers, stakeholders, communities and employees. Through this Annual Corporate Social Responsibility Report of 2016, we share our efforts and achievements in our corporate sustainable development with all social circles and our stakeholders.
In 2016, the world experienced several far-reaching and surprising changes, first with Brexit, followed by the new President in the US, all those profound unpredictable internal and external factors that caused rapid changes in the market deepened the complexity and challenges of business operations. Although there was concern of oversupply in the Asian synthetic rubber market in 2016, TSRC continued to grow in synthetic rubber output in 2016 through the organization adjustments to strengthen production and marketing integration, as well as strive for order actively. In terms of thermoplastic elastomers (TPE), although impacted negatively by the price pressure from competitors, and brief suspension of production capacity in China due to the G20 meeting, the annual output was significantly higher than 2015.
In terms of environmental sustainability, in order to curb global warming, the Paris Agreement signed by the countries to commit to greenhouse gas emissions reduction went into effect, coupled with increased operating costs of the petrochemical industry due to many industrial safety and environmental protection laws newly promulgated domestically and internationally. All industrial safety and environmental protection expenditures will continue to increase. However, TSRC continues to invest in the replacement of old and inefficient production equipment, improve the production process quality, and adjust our product portfolio. In particular, the successful completion of the BR plant solvent conversion, and fulfilling our commitment to Corporate Social Responsibility and the customer, as well as reducing residues from toxic substances in the product and Improve product quality. It is expected that investment in environmental protection and industrial safety will be increased in the next three years, and the total investment in environmental protection capital will reach NT$ 550 million.
TSRC also attaches great importance to employees care and support for society. It is expected that investment in environmental protection and industrial safety will be increased in the next three years, and the total investment in environmental protection capital will reach NT$ 550 million. Physical health exams are held once a year for all employees which is better than the frequency specified in the laws and regulations, and we organize health seminars to improve our employees' health management from time to time. Especially, contributions to disadvantaged students in local communities has entered its sixth year, and helped thousands of students in need. We also invited cooperating manufacturers to produce appropriate items using TSRC's product - rubber as the raw material - to help disadvantaged organizations in order to protect and educate disadvantaged groups and enhance the stability of our society. And, we have participated in the "Chemistry to the Countryside" education activity since 2012 with more than 100 member-trips to volunteer in schools by TSRC employees to help with interactive chemistry education activities, to demonstrate TSRC's attention to chemical education and corporate feedback.
Looking forward to the future, TSRC will actively promote the transformation and upgrading, move toward a more specific niche with specialized chemical products and applied materials market area, to enhance our high-end technology and customized research and development capabilities. We also continue to uphold the sustainable operating philosophy of cherishing the earth's resources, implementing corporate social responsibility and a sustainable business philosophy, we are fully engaged in the development of energy-saving materials, creating operational success, and also expecting to march steadily forward on the road of business sustainability, continuing to create value for the stakeholders and all of society.
Shao-Yu, Wang
Chairman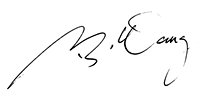 Joseph Chai
CEO