For future development, we will make continual
improvement to pursue sustained operations.
To make a comprehensive survey of TSRC's rubber industry operating environment compared to the previous years, the sly and changeable economic conditions has challenged TSRC's operation in 2017, including the tremendous price fluctuation of the butadiene, lack of growth momentum in synthetic rubber demand, the pressure caused by the intensification of market competition and the strict environmental and labor laws and regulations each plant has encountered. Thanks to the efforts made by the corporate team to maintain stable development fundamentals of TSRC in 2017.
Through the implementation of the 5-year development plan, the operation team has achieved many important progresses, including the increase sales of SEBS, high quality shoe materials received certification from international brand partners and began supply, reformed and upgraded Kaohsiung's technology center and R&D facilities, completed conversion of E-SBR and BR distributed control system in Kaohsiung plant and great breakthrough of S-SBR technical development. All these critical action plans were the important cornerstone of establishing the Company's future increase of profits.
Besides optimizing present products and production and developing international brand customers, we promotes the production process, strengthens the internal autonomy to achieve resource efficiency, equipment performance improvement, pollution source reduction, raw materials replacement, waste resourcing, and other work projects. With all the above measures, we had increase in total amount of production in 2017, but the emission intensity of green gas unit products had decreased from 1.26 to 1.23 (tons of carbon equivalent/tons). To decrease green gas emission and reduce environmental burden, TSRC production centers has cherished water resources, executed each water-saving measures and emphasized the process wastewater reclamation. In 2017, we even increased 30% of recycled water, presenting the performance of every positive action.
Since the promotion of CSR, TSRC expected the voluntary actions to transcend law compliance, fulfill sustainable growth and integrate CSR into core operation process. For the compliance of all employees, we had formulated regulations like "Ethics Code of Conduct", "Confidential Information Management Regulations", "Personal Information Operation Management Regulations" and "Official Business Operation Code of Conduct", to protect the Company's intellectual property rights, confidential information and the personal information of the customers and employees. In response to continuous organizational internationalization, TSRC actively invests in employee training and multiple learning, expecting that employees can grow together with TSRC in the aggressive global competition.
TSRC also attaches great importance to support for society. Especially, contributions to disadvantaged students in local communities have continued to help thousands of students in need. We also participated in every social activity to help disadvantaged organizations in order to protect and educate disadvantaged groups and enhance the stability of our society. And, for 7 years we have cooperated with the chemistry education team and planned more than 100 member-trips to volunteer in schools in every factory area by TSRC employees to help with interactive chemistry education activities, to demonstrate TSRC's attention to chemical education and corporate feedback. All of these were just the beginning of TSRC to promote every commitment we made to sustainable development through every practices and results.
2018 is also an important milestone in the passing of TSRC's 45th anniversary. The successful transformation of TSRC came from two traditional core values: one is the spirit of continuous improvement, since our founder upheld the attitude of "human effort is the decisive factor" and has passed it on later generations, the other is the company's outstanding talents. Employees are the most important asset of the Company. Form past to present, TSRC's employees took a diligent, dedicated and faithful attitude toward their works and overcame many challenges to found today's TSRC. For these, we expressed our greatest gratitude to our employees. We also continue to uphold the sustainable operating philosophy of cherishing the earth's resources, implementing corporate social responsibility and a sustainable business philosophy and also expect to march steadily forward on the road of business sustainability, continue to create value for the stakeholders and all of society.
Shao-Yu, Wang
Chairman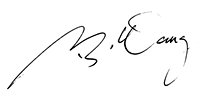 Joseph Chai
CEO