For future development, we will make continual
improvement to pursue sustained operations.
To all our TSRC partners, TSRC continues to focus our efforts in every economic, environmental, and social aspect to fulfill our corporate responsibilities, with expectation of being a sustainable business. We are pleased to share with the communities and our stakeholders about the efforts and achievements in implementing our sustainable business development through this "2015 Corporate Social Responsibility Report".
Due to a weaker Chinese economy, lower demand of the automobile market in 2015, the Chinese tire industry suffered anti-dumping and countervailing sanction from the US, the operating rates decline. The synthetic rubber production capacity continued to expand and caused a large increase in market supply and worsened the demand imbalance. In addition, the sharp drop in oil prices led to lower prices in the raw material butadiene, synthetic rubber prices have fallen sharply, and profit of the rubber industry was significantly impacted.
In order to break through this difficult business environment and ensure a profit margin, in additional to promoting new revenue stream and cut cost, TSRC also strengthened the flexibility of production line management, and establish a market strategy of price and volume stability with long-term customer, and changed a Kaohsiung SBS production line to SEBS, to improve high-margin, high-quality TPE product sales percentage, committed to the development of differentiated products, including the rubber products used for high-performance and energy-saving tires, and providing excellent wet grip and handling performance, while providing customers with a full range of technical services, to meet the demand of tire customers. In order to compete in the high end TPE market and meet the demands of international manufacturers, TSRC is actively moving toward the development of applied material market with special niche, including the development of highend shoe materials, special adhesives, printed thin films, high-end medical materials and others, and continue to enhance TPE product quality and process technology improvement, and establish a global product technology service network, become the supplier trusted by the global customers to enable the Company maintaining stable growth and implementing the objective of business sustainable operation in this highly competitive environment.
In the environmental aspect, in addition to the original areas of Taiwan and the Mainland China, we have further expanded the scope to the US subsidiary Dexco Polymers in jointly disclosing the information on Greenhouse Gas/Environmental Safety and Health Management, Labor Equal Rights, and other topics in 2015.
In light of Kaohsiung 81 gas explosion incident, TSRC established the "Underground Pipeline Management Operating Practices", and in cooperation with CPC and neighboring factories of Dashe District, built the butadiene pipeline feeding monitor, patrol inspection and maintain system, actively worked with the "Kaohsiung Existing Industrial Pipeline Self-Management Regulations" published by the Kaohsiung City Government in 2015, and Pipeline Bundle Joint Protection Drill" with the Pipeline Bundle Joint Protection Emergency Response Plan, actively implemented the area joint protection emergency response mechanism and toxic chemical substances joint protection operating management with significant performance, and won the award specially recognized by the Industrial Development Bureau, Ministry of Economic Affairs. In the light of operation sustainability risks caused by the climate change, TSRC also actively promote water saving measures with an accumulated 35% waste water recycle rate in 2015 by the production process of Kaohsiung Factory and 37% by Nantong Factory, and 17.27% of reduction in water consumption by Gangshan Factory, moreover, Nangtong Factory won the Water-Saving Enterprise Operation Award.
In the promotion of energy saving, Kaohsiung Factory implemented of ISO50001 Energy Management System in 2013 and gradually extended to the subsidiaries in Nangtong, Shen Hua Chemical also passed the external certification in 2015. Through effective division of work in the management team, TSRC has been gradually decreasing its energy use, and greenhouse gas emissions also show a decreasing trend at the same time. TSRC is expecting to achieve a balance of economic development and environmental protection through all these positive actions.

In the social aspect, TSRC provides employees with an optimum salary system and incentive programs over the provisions specified by the laws and regulations, pays attention to the business responsibility of local hiring, and hired more than 200 new employees in 2015 with overall salary and benefits better than average level of the industry, actively creates challenging, continuous learning as well as comfortable and safe working environment, promotes the balance of work and life in every effort. Taking from society and giving back to society, TSRC also participates in the society and the local community caring, with local Factory area as the base, gradually implements the TSRC Social Caring Map, in addition to all community caring activities, also participates in Chemistry Education to Local Community Plan and with our cooperation manufacturers to utilize the products in social caring, expecting to fulfill our Corporate Social Responsibility through all kinds of social welfare activities.

Looking forward to the future, TSRC will actively promote the transformation and upgrading, will expand the TPE business proportion, move toward a more specific niche with special chemical products and applied materials market area, to enhance the high-end technology and customized development capabilities. As well as continue to uphold the sustainable operating philosophy of cherishing the earth's resources, implementing the corporate social responsibility and sustainable business philosophy, fully engaged in the development of energy-saving materials, creating operational success, also expecting march steadily forward on the road of business sustainability, continue to create value for the stakeholders and all society.
Shao-Yu, Wang
Chairman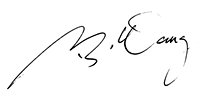 Joseph Chai
CEO